Sloper Credo 
Welcome to YMCA Camp Sloper!  Here, new experiences are introduced and lasting memories are never forgotten.  We reach out to the child in everyone and build character in the leaders of tomorrow. We change lives and provide an environment for people to grow. 
Welcome to YMCA Camp Sloper--Love it, Share it, and Preserve it for the next generation. 

Sloper NEWS!!
2022 YMCA Camp Sloper Day Camp Brochure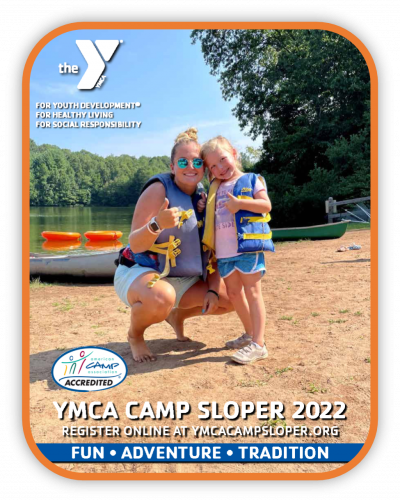 Registration for YCS 2022 - Sloper 73 will begin on Saturday, February 5th for all returning campers and families and Sunday February 6th for all New Families. Make sure to register early to secure your spot. 
Session Dates
Preview Week: June 20th-June 24th
Session 1: June 27th-July 8th (no camp July 4th)
Session 2: July 11th-July 22nd
Session 3: July 25th-August 5th
Session 4: August 8th-August 19th
Finale Week: August 22nd-August 26th
For questions about Day Camp, or other inquiries call YMCA Camp Sloper at 860-621-8194 or email Camp Director Justin Hubeny at jhubeny@sccymca.org.
Program Spotlight
DONATE to the 2022 Sloper Plunge
YMCA Camp Sloper will be hosting our 17th Annual YMCA Sloper Plunge to help raise money for camp scholarships to help send kids to YMCA Camp Sloper who otherwise would be unable to.
If you would like to make a donation to a Sloper Team member, Justin, Tom, or Sarah, click one of the links below. 
Thank you in advance for your donation and the impact you are making on Children and Families!!!
If you are interested in jumping in the plunge or if you have questions on the Sloper plunge feel free to email Justin Hubeny at jhubeny@sccymca.org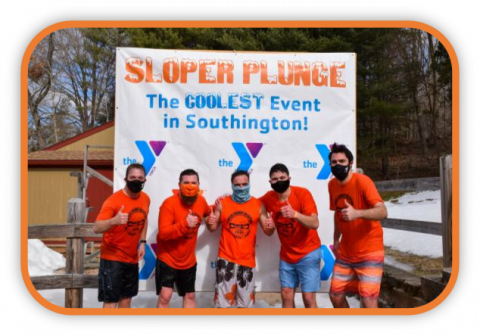 FUN - ADVENTURE - TRADITION